How to style a faux leather moto jacket like Selena Gomez, Emma Roberts, and Lily Collins, for less.
Every week, I scour the web to find inspiring outfits on your favorite celebs and help you recreate their looks! This week, I was inspired by Selena Gomez, Emma Roberts, and Lily Collins, who all wore biker jackets recently.
Read on to see how to wear a faux leather jacket like the celebrities in 2020, with tips on how you can get these celebrity biker jacket outfits for less.
Celebrity Look #1: Selena Gomez's Neon Cool
Selena Gomez recently stepped out in a cool, eye-catching look featuring a neon green crewneck sweater under a black biker jacket.
She dressed up a pair of raw hem cropped jeans with some black stiletto sock booties and carried a black bag with a silver chain detail to complement her jacket.
Biker Jacket Outfit Inspired by Selena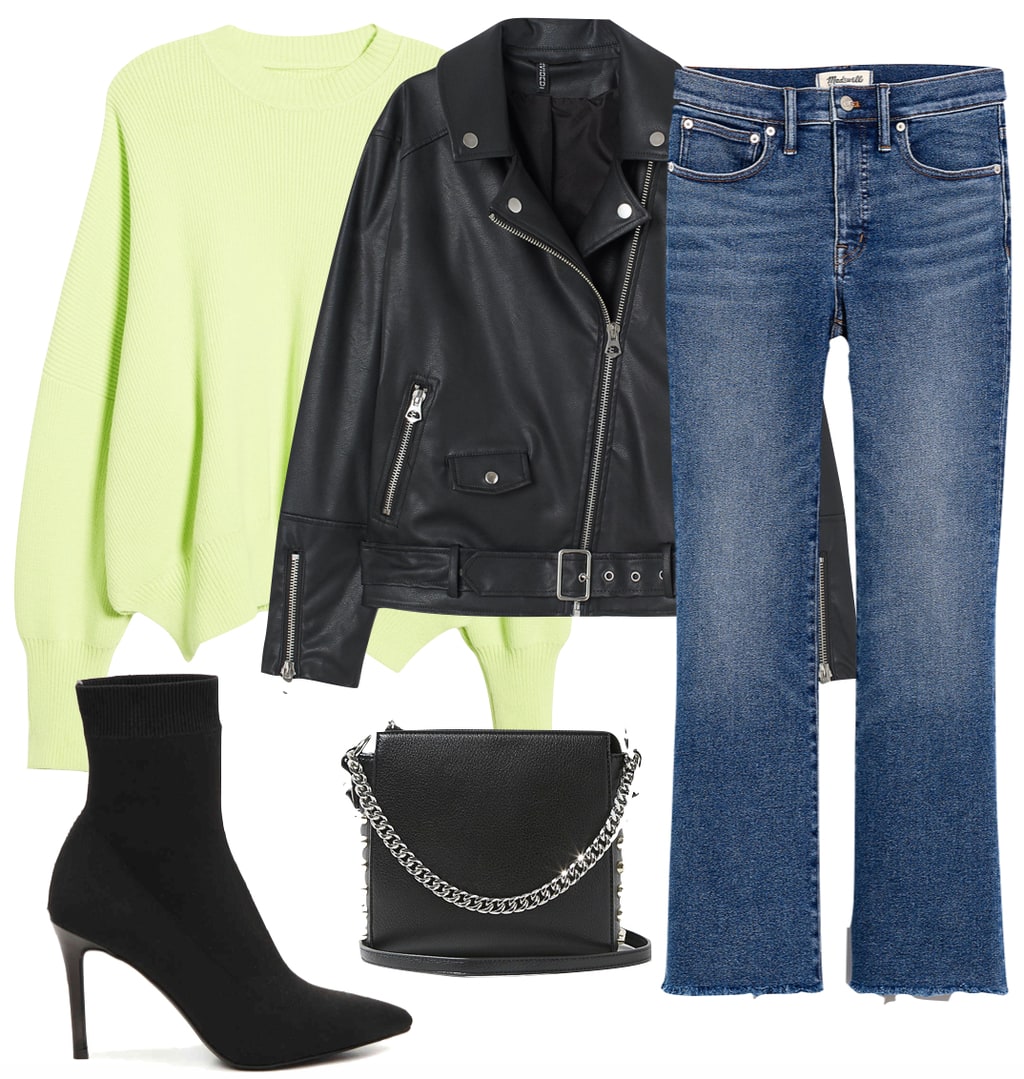 Products: Sweater – Nordstrom, Jacket – H&M, Jeans – Madewell, Booties – DSW, Bag – Forever 21
Selena's look is unexpected thanks to her sweater's bright pop of color; get the look with this neon green crewneck sweater with a similar oversized fit.
Wear it with a pair of cropped raw hem jeans and a black faux leather biker jacket to give the ensemble some edge.
A black bag with a silver chain detail has a similar vibe to the biker jacket, while a pair of heeled sock booties dress the outfit up.
Celebrity Look #2: Emma Roberts's Fresh Color Palette
While getting her hair done, Emma Roberts recently rocked a white biker jacket for a fresh take on the classic black version.
For her light-colored look, she paired her jacket with a matching white cardigan top and snake print booties.
Emma kept her outfit laid-back by wearing some straight-leg jeans and a pair of brow bar sunnies.
Outfit Inspired by Emma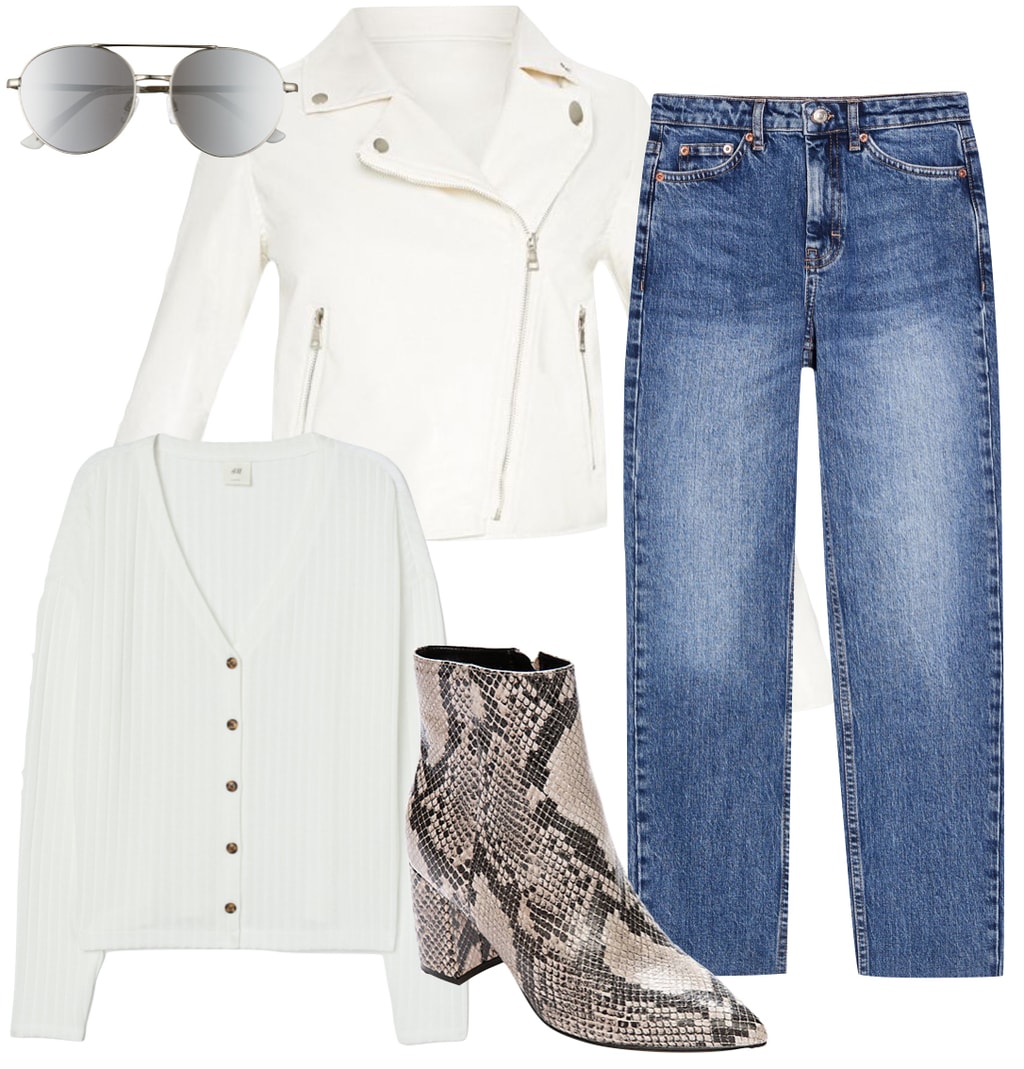 Products: Jacket – Pretty Little Thing, Cardigan – H&M, Sunglasses – Nordstrom, Jeans – Topshop, Booties – Belk
Emma's ensemble has major spring vibes with its lighter color scheme and trendy pieces.
Wear a white faux leather biker jacket over a white cardigan sweater – wearing cardigans as tops is a total trend right now, as is snake print. Give the look a pop of print like Emma did with a pair of snake print booties.
For this cool, casual look, wear some straight-leg jeans and throw on a pair of round brow bar sunglasses for a final touch.
Celebrity Look #3: Lily Collins's Edgy Meets Dressy
Actress Lily Collins was spotted in a dressier ensemble with a touch of edge thanks to her black moto jacket.
Lily wore her jacket over a black midi dress and cognac brown sock booties, proving how versatile a leather jacket can be.
She accessorized with round metal sunglasses and a black and brown two-tone mini handbag.
Outfit Inspired by Lily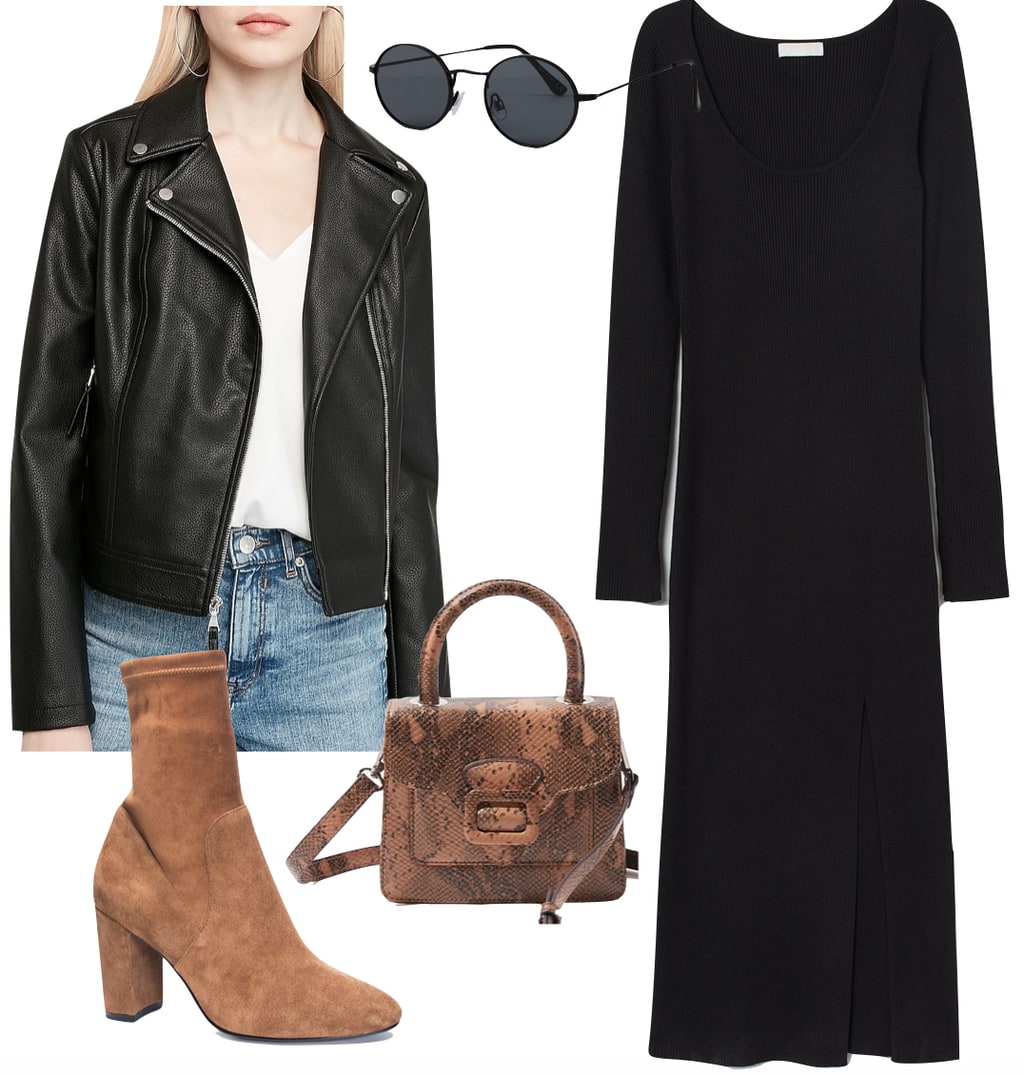 Products: Jacket – Express, Dress – H&M, Sunglasses – Missguided, Boots – Chinese Laundry, Bag – Urban Outfitters
You can throw a moto jacket over just about any kind of outfit and it will instantly look cool.
For Lily's dressier look, wear a black midi dress with cognac brown sock boots and a vegan leather moto jacket over top.
To tie in the black and brown colors in the outfit, opt for a handbag that features both hues, like this mini snake print handbag.
Complete the ensemble with some round black metal sunglasses.